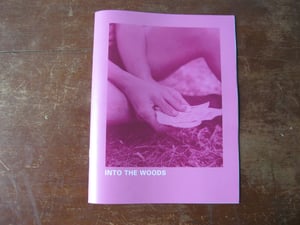 $

10.00
Exhibition Catalog for Into The Woods by Elle Perez
Essay by Elle Perez on the series
Forward by Curator Ginevra Shay
Edition of 40
26 pages
Full Color, Full Bleed
Saddle Stitched
8.5x11"
----------------------------
Current Space is pleased to announce Elle Pérez as the first photographer to be exhibited in our new photography solo show program. In conjunction with the exhibition we will be releasing a catalog of Elle's work.
Opening Reception: April 5th, 7-10pm
On view: April 5th - April 21st
Gallery Hours: Saturdays 12-4pm
----------------------------
And then they said, "Being infinite sounds beautiful" in a letter, before heading back into the woods.
----------------------------
Elle Pérez's series "Into the Wood" dismantles gender binaries through their images and experiences in the utopian society of IDA, a safe space in Tennessee. Following in the footsteps of communes that have come before them, IDA drifts towards a divine state, but is not without flaws.
This rural farming community allows people to come home to their ideal selves. They take on new names, exist freely, connect to nature, and have the opportunity to learn farming skills. In this place people are able to break away from the societal bonds placed on their bodies. Individuals can let go of their physical and emotional history and open up to themselves, others, and nature in a more fluid way.
Pérez is able to document the visitors and residents after they've shed their protective layers and begun to explore their eternal spirit. "Into the Woods" is Pérez longest running series on queer culture. Still in progress, they have made yearly pilgrimages to IDA since 2011.
--------------------------
Elle Pérez (b. 1989, Bronx, NY) is a photographer who works and lives in Baltimore, Maryland. Perez's work focuses on themes of gender-based identity, queer self-awareness and youth culture, and has been exhibited at galleries such as Conner Contemporary Art (DC), Spattered Columns (NYC), and the University of Nebraska at Lincoln. In 2011 Perez was awarded the Jane Meyer Traveling Fellowship to produce a new body of work titled "The Outliers: Regarding the Space(s) Between Genders." Perez has previously taught photography at the Educational Alliance Art School, a NYC based non-profit program with a focus on accessible art education for youth. Perez received a BFA in Photography at the Maryland Institute College of Art."