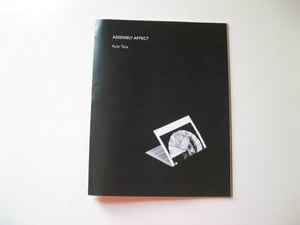 $

10.00
Assembly Affect
Kyle Tata
Current Space's Front Gallery
Opening: May 25th, 2013, 7-10pm
On View: May 25th – June 16th
Gallery Hours Saturday and Sunday 12-4pm
Curated by Ginevra Shay
Catalog Essay by Ryan Syrell
"To create an Architecture is to put into order.
Put what into order?
Function and objects"
-Le Corbusier
Current Gallery is pleased to announce Assembly Affect, a solo exhibition of new work by artist Kyle Tata. In conjunction with the exhibition Current will be releasing a catalog of Kyle's work.
Assembly Affect features photographic work that explores Modernism and its relation to contemporary domestic living. Citing influences that range from Oscar Niemeyer to IKEA, Assembly Affect plots a nonlinear line through history to connect the dots between abstraction and domesticity. In addition to the subject matter, the photographs in this exhibition contain both digital and antiquated printing processes as a way to conflate contemporary and historic approaches to photography.
Kyle Tata (b. 1990) is a Baltimore based artist and recent BFA graduate from the Maryland Institute College of Art. His work addresses history, urbanism, and architecture through photography, artist books, and other printed matter. Tata has also written for numerous art blogs including Humble Arts Foundation in New York. His work has been featured at galleries and institutions such as the Baltimore Museum of Art, Maryland Art Place, The Light Gallery (MD), the George Segal Gallery at Mont Clair University, The D-Center (MD), Petrella's Imports (NYC) and a forthcoming exhibition at the International Print Center of New York. Tata is currently on the faculty at Baltimore School for the Arts.
Ryan Syrell (b. 1984, Oswego, NY) is a visual artist and musician, working primarily as a painter. He received his BFA from SUNY Purchase. He has exhibited and performed internationally. Ryan currently lives and works in Baltimore, MD.
Ginevra Shay (b. 1987, Washington DC) is an artist, curator and photo archivist. She studied Studio Art and Art History at the University of Vermont. Ginevra's work has been exhibited and published nationally and internationally. She is the community darkroom founder and head of photo programing at Current Space in Baltimore, Maryland.